June 24th, 2009 by john
Hankook Levin Racing / Carl Rydquist: 24H of Nürburgring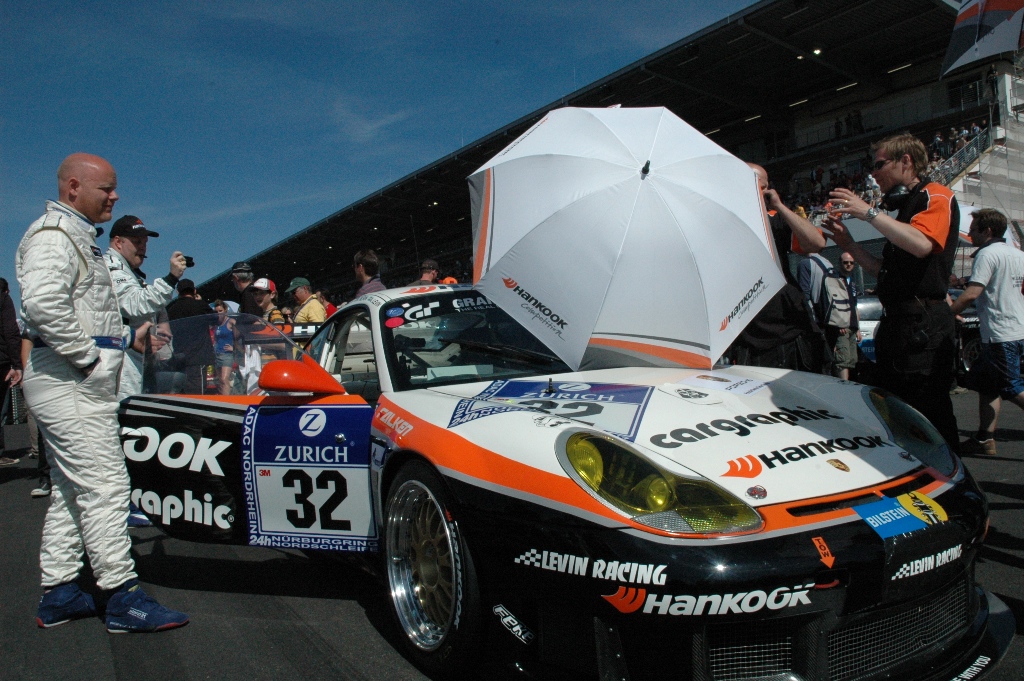 City Tire's Formula Drift and Porsche-racer Carl Rydquist is a regular in the 24 Hours of Nürburgring these days. Backed by Hankook Tire's global motorsports office, he was sent to Germany to charge for a position in the top 10 together with professional Porsche team Hankook Levin Racing.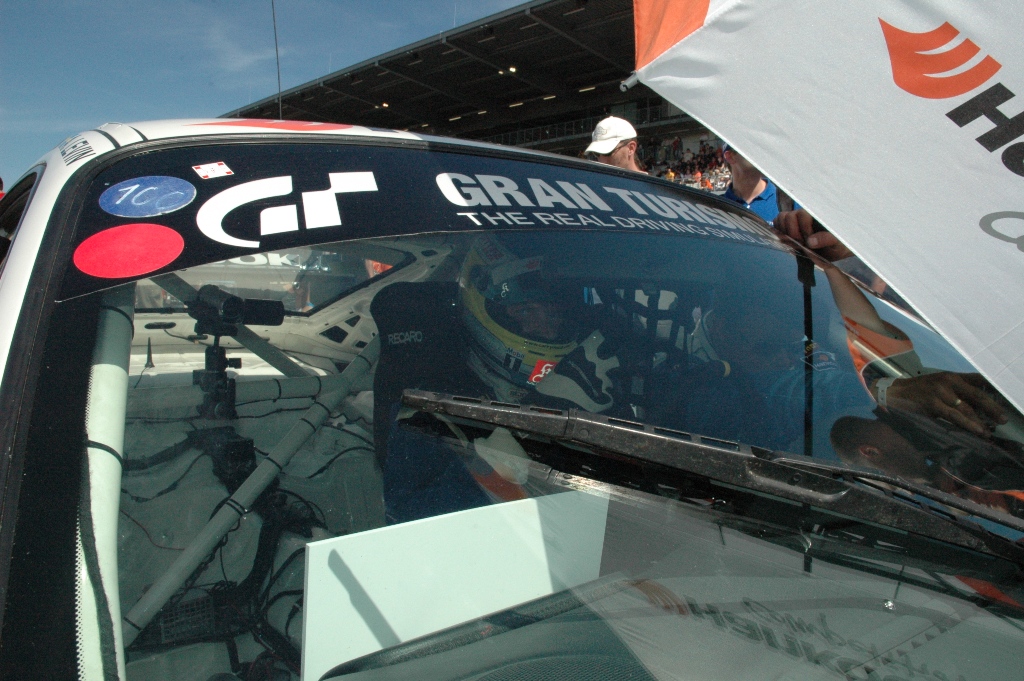 The team's Porsche 911 GT3 RSR is a state of the art 996 model, with a Porsche Motorsport 3.9 liter engine and a specially developed suspension kit for the fierce and fast Nordschleife – "The Green Hell" as named by legend Jackie Stewart. However, against many of the worlds absolute top drivers from DTM, WTCC, F1, you name it, it would be a challenge, as always at the 24 Hours of Nürburgring.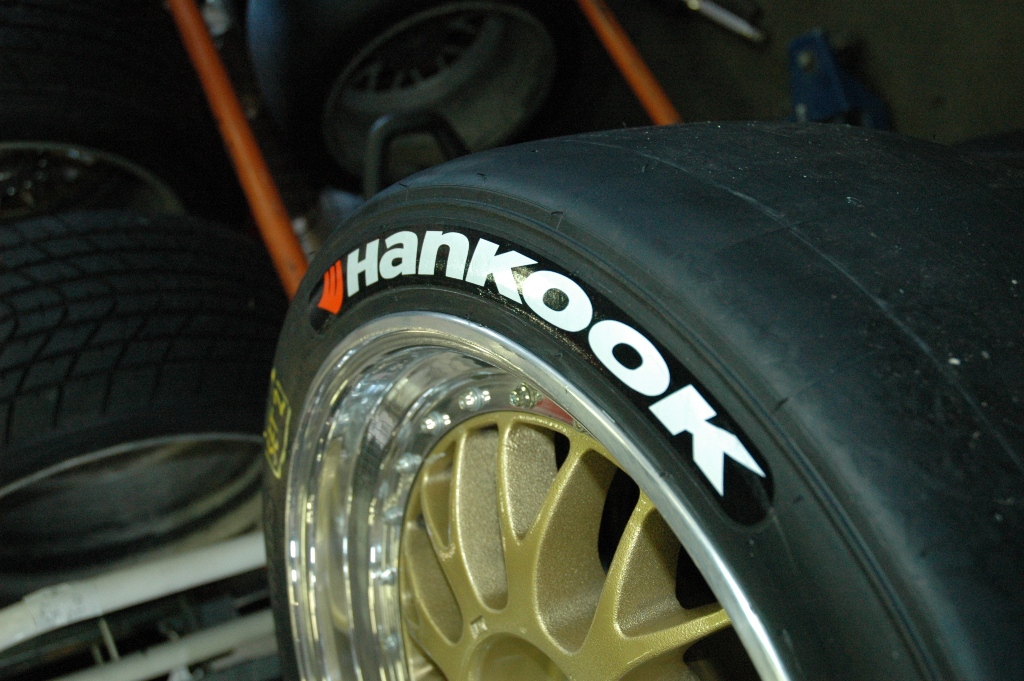 It was clear that with the new Hankook rubber, the Hankook Levin Racing Porsche was even faster this year than before, although the race organizer had limited the performance for several front running cars with restrictors, choking the earlier 526 horsepower to a still impressive 455 horsepower. Rydquist worked hard with the team engineers and the Hankook tire engineers through practice sessions, to gradually improve the lap times, one sector at a time.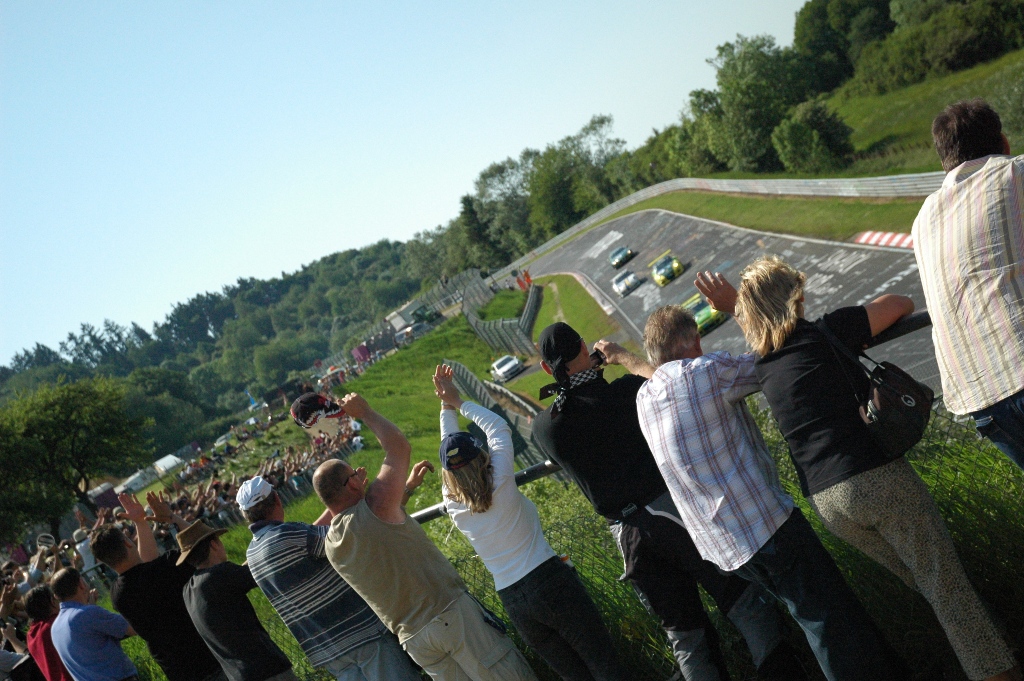 Come qualifying, the car was getting up to par with the main competitors that were shooting for top 10 finish of the race. With a few unknowns and a car catching fire on track, some time was lost on the Friday, one-shot qualifying lap, but 32nd spot was successfully brought home.
   – "It was a good lap with the car as it was at that point, maybe there's a second or two to cut down but you can't really push all in every section on the Nordschleife with a bit of an unknown setup," says Rydquist. "The main thing however was that car blowing an engine in front of me which made another car slide off the track and then come flying back onto the track, right in front of me. I saw it coming and could avoid an incident, but of course lost some time. However, it's a 24 hour race and it is obviously a much tighter field this year which means a great race for everyone involved or watching. We have some more suspension changes coming for the race."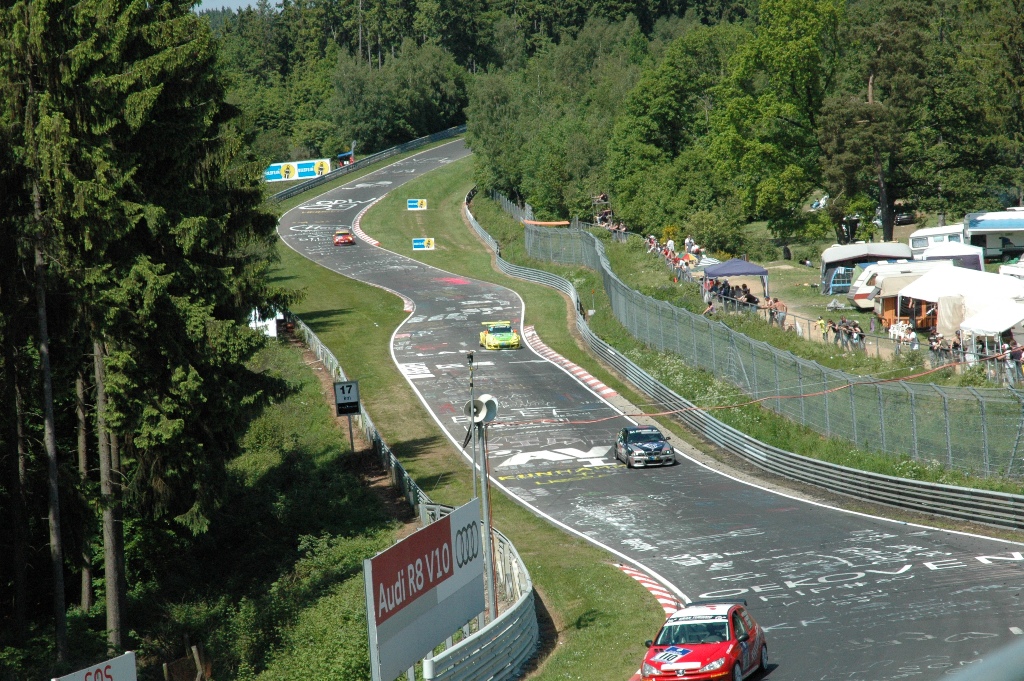 The 37. ADAC 24 Hours of Nürburgring had two new classes invited this year, one with FIA GT3 regulations giving those cars a very competitive edge, as many as 19 cars squeezed in, from pole position ahead of 4 time winner Manthey Racing 's Porsche 997 RSR up till 30th position, in front of the Hankook Levin Racing team.
   – "It wasn't a big surprise to see that there would be many fast qualifiers," Carl tells. "These cars came in with virtually fully spec'd vehicles and in many cases different weight limits, however 24 hours is a different thing and tank capacity, weight, etc has a much greater bearing than during a qualifying lap, which the race would show once again. Surely though it is some type of benchmark, so we compared the times within the top three classes from the last three years and in that field we qualified on 13th."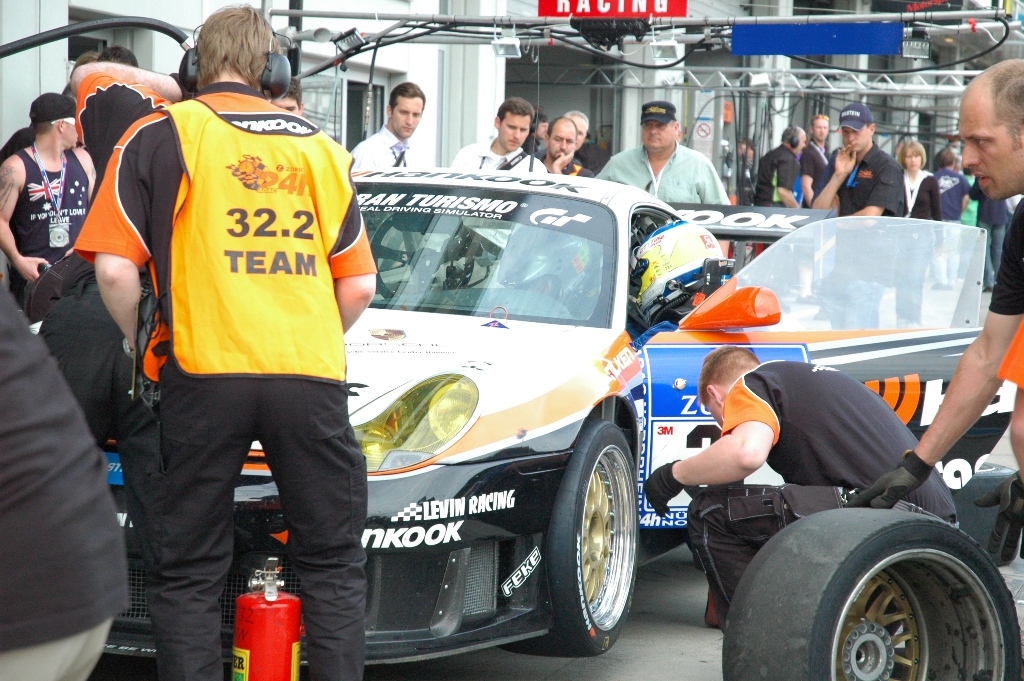 When the race started, it was obvious that the last minute changes decided by the engineers, based on Carl's feedback, was a hit. The Hankook Levin 996 GT3 RSR with Rydquist behind the wheel started the first two hours by chasing down several 997's and despite getting a front tire damaged by carbon fiber debris on the track, Carl handed the car over to his team-mate Martin Morin in 25th position.
   – "We made a big leap with the last few changes of the car", Rydquist explains. "Much faster in every turn, it was great work and great decisions made by the Hankook Tire personnel. It was a thoroughly great experience to be racing around this track in such a tight field, and experience how the Hankook tires kept the grip throughout the stints, it was really a competitive advantage. I was a good bit down on power out of slow and medium turns, but could actually make it up going into turns and carrying speed through some combinations where it seemed my lines were simply faster."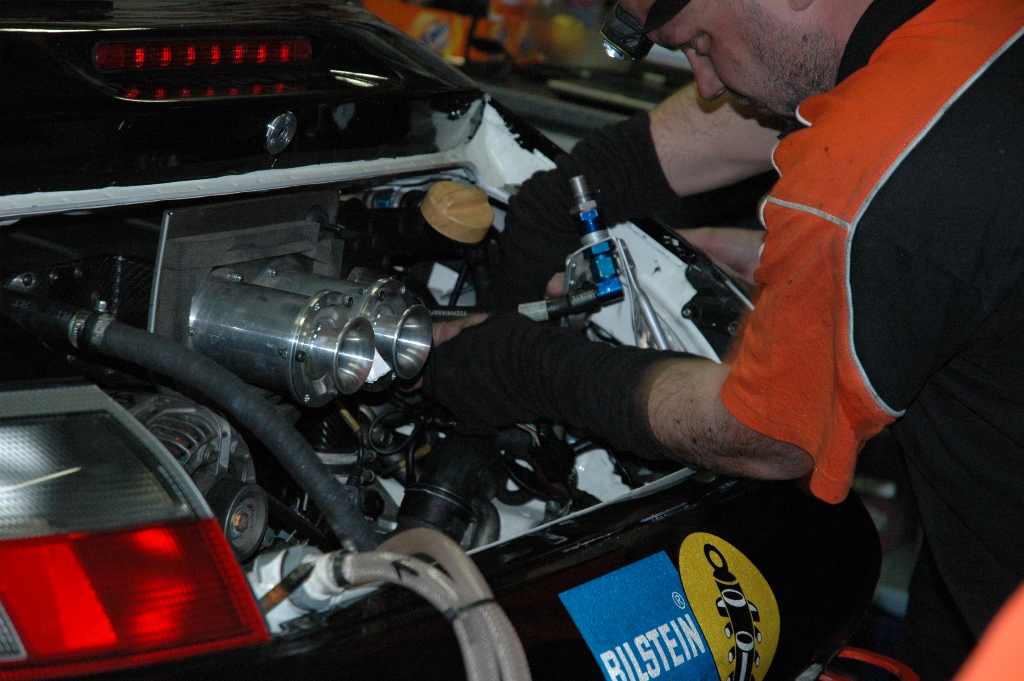 Disappointingly for the whole crew and all fans, from Sweden to California to Korea, following the race, the oil/water heat exchanger suddenly broke during Morin's stint. Martin cool headedly saved the engine by keeping the temperatures down while returning to the pits, and the team changed the parts at super sonic speed, however, the whole engine needed to be dropped to access the exchanger, which is never a quick job.
– "It was an awful experience when this happened," Carl reveals. "I've been mad sometimes after races when having been hit by some competitor on track and ended up in the dirt or had some mechanical failure, but those times were nothing compared to this disappointment. We were having a grip around the situation, with a great strategy and more to give as the race would unravel."
The team decided to charge on, kept it going and picked up a lot of positions during the night.
   – "The car just got better and better. For the night we ran a softer tire and the harmony in the car was great. I handed it over with a feeling that we could make even better than calculated, the car was running very well on the softer tires."
But again, mechanical problems arose. The clutch jammed in the night and with another engine drop necessary to solve the problem, there would be too much distance to make up, to try to get even close to top 20. The team decided to save the hours on the drivetrain and other components, and come back stronger in another race.
   – "There are no words really to describe it," Carl tells. "We were just getting the hang of it, challenging some of the world's best teams and drivers, factory backed teams from Audi, Porsche, Lexus, BMW, VW, numerous of professional FIA GT teams and tire manufacturers. It was a fantastic lineup and we were bit by bit getting the car to run really fast on the impressive Hankook tires. They were really great to race on and the competition was amazing. I loved it, that's why it was also very hard to get over. We hadn't actually started to push really hard, saving the car for the last 8 hours of sprint during Sunday. And the worst part of it; there's no real reason. Both components that failed were new assemblies. It shouldn't have happened."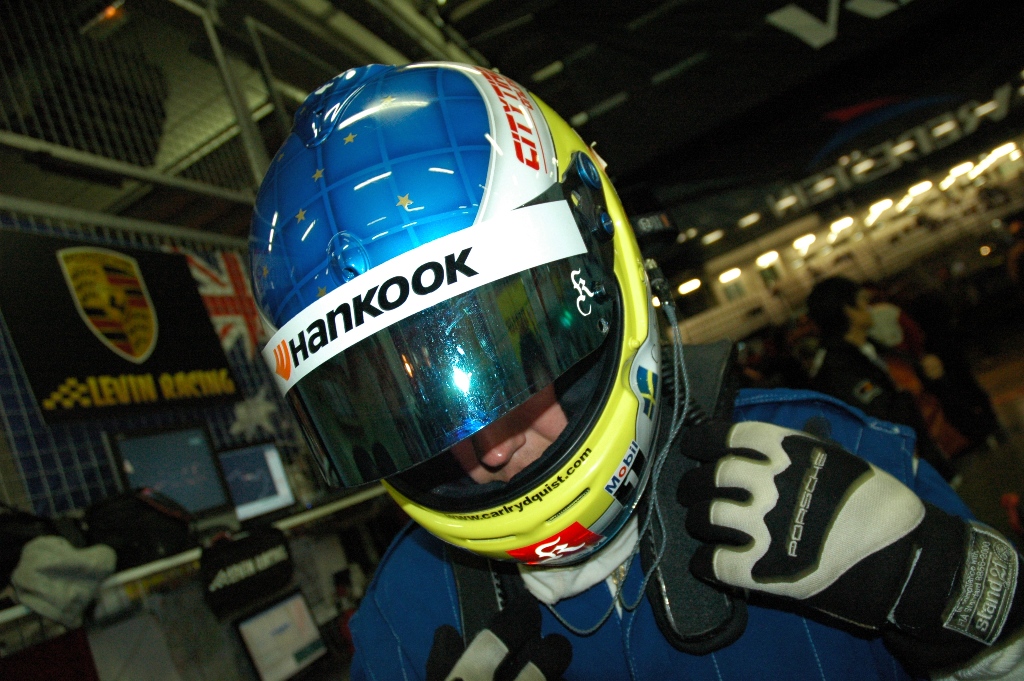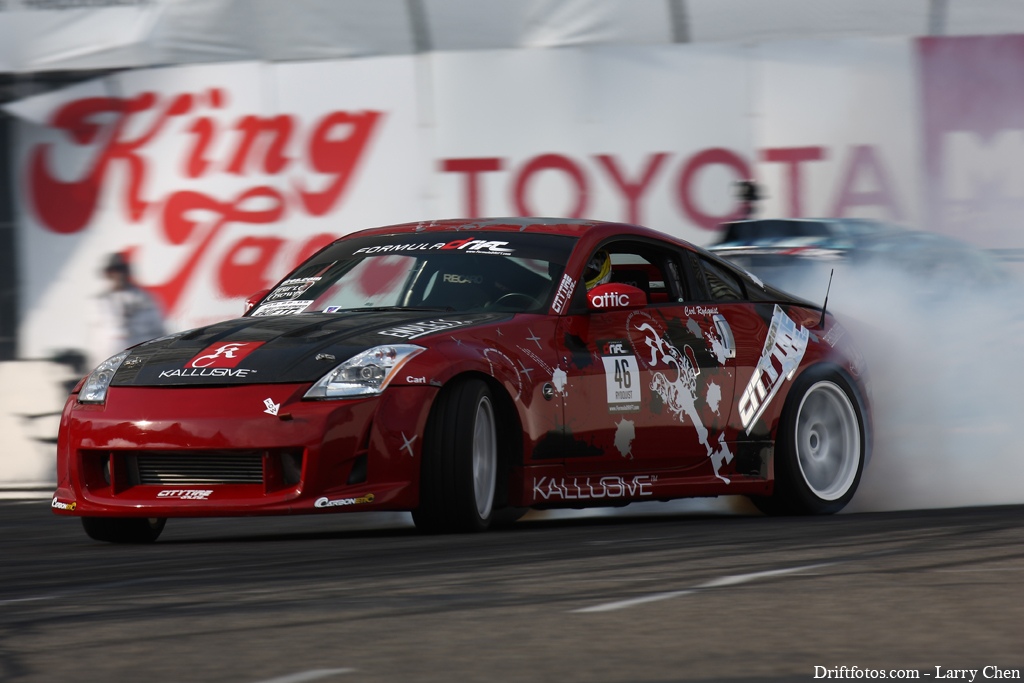 Photo: Larry Chen / Driftfotos.com 
Leaving Germany, new missions were and are awaiting Rydquist. Formula Drift in Las Vegas is coming up, a true highlight of the Formula D season here. The City Tire / Kallusive Clothing 350Z Twin Turbo will sport new lightweight body parts from AIT, providing him with an even faster and more maneuverable car. Also, Carl is scheduled to help AE Performance to setup their Porsche 996 GT2 for upcoming time attack events. Expect to see some great lap times from this beautiful machine. In the meantime, Rydquist has been staying sharp by tracking a slightly improved Porsche 996 Turbo with Speed Ventures, blowing some fully built racecars on slicks out of the water.  Read more and see pictures and videos from the City Tire / Kallusive Clothing team on:
www.kallusive.com
Hankook Levin Racing & ADAC Zurich 24 Hours of Nürburgring Nordschleife:
CONTACT INFO:
John Shin, City Tire team owner
1-888-977-TIRE
Posted in citytireonline.com, CTO, Racing | No Comments »